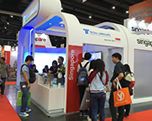 Tecsia Lubricants' booth was one of the biggest and busiest under the Singapore Pavilion.
2017 marks Tecsia Lubricants' sixth participating year in Propak Asia held at Bangkok International Trade and Exhibition Centre (BITEC) in Thailand.

The annual presence elevates Tecsia Lubricants' brand awareness positioning. American and European brands of lubricants, which are NSF-certified food-grade, were proudly featured and displayed to visitors of all trades. The brands exhibited were Anderol®, Tacbecon® and Xaerus.

Propak Asia is an excellent platform to promote food safe procedures for manufacturing and packaging. Tecsia Lubricants is an advocate when it comes to proper and safe food manufacturing methods. Safe food handling, from start to finish, is crucial for consumption as it reaches to traders, shoppers and other patrons.

In order to spread the advocacy and educate the importance at Propak Asia, Tecsia Lubricants partnered with close alliance, NSF. Playing key roles in the food safety sector, they highlighted myths, trends and future plans for food-safe practices. In addition, they reminded readers on the importance of careful production planning and certifications.

As a result, the booth presented itself as a centralised hub for food safe processes.

A high temperature grease, Tacbecon® TSF 6170, was also exclusively featured in the exhibition's daily newspaper – Show Daily. The media presence has enhanced Tecsia's brand visibility in the event.

Tecsia Lubricants company is always honoured and pleased to work with its partner, NSF. Through the collaboration, Tecsia Lubricants and partners have reaped mutual benefits. The exhibition concluded in a very good note for all. It has produced great results in terms of gathering leads and also strengthening ties for all parties.